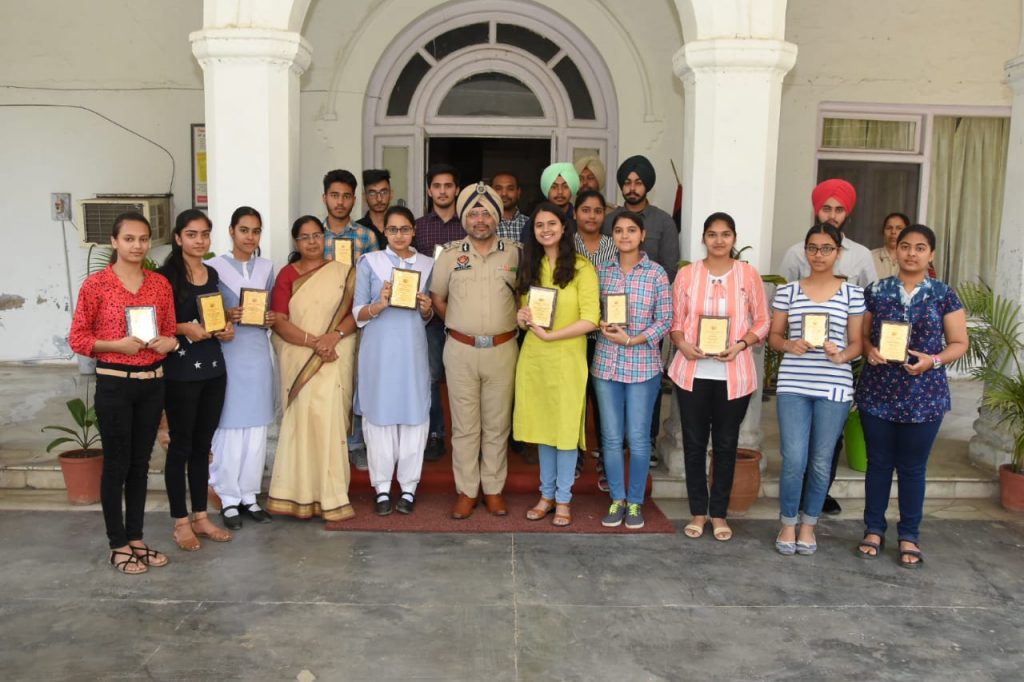 It was proud moment for the students of Police DAV Public  School, Patiala when Mr. A S Rai (IG Patiala Range) honoured the meritorious students excelling in CBSE class 10th and 12th examination. The students were very excited to be rewarded for their  timeless efforts from  such a dignified personality. Mr.Rai expressed his happiness while rewarding  the students with a trophy.
Total 16 students were honoured by Mr.Rai.  From the humanities stream Aditi Srivastava topped with 96% marks, Jagjit Singh stood second with 92% and Tania stood third with 89%. The Commerce stream was topped by  Lovepreet Singh with  94.4%, Jasmine Sharma stood second with 92% and Gurnoor Singh Sadana stood third with 90.4%. In the Non-Medical Stream  Arshdeep Panesar topped with 93.2% , Sumanpreet Kaur and Yadwinder Singh shared the second position with 91.4% and Hardeep Singh stood third with 91%. In the Medical Stream  Anchal topped with 82 % , Muskan Chauhan stood second with 75% and Anupriya stood 3rd with 74.6%.
In Class  10th  Jasmine Kaur stood first with  96.6 %. Ramanjot Kaur stood second with 96% and Kamaljeet Kaur stood third with 95.6 %. They were appreciated for their tireless efforts in making everyone proud. Mr.Rai congratulated them for their glorious achievement. He motivated them to continue striving hard to achieve their goal.The school Principal Mrs.Meena Thapar expressed sincere thanks to Mr.Rai for sparing his time to inspire young minds and encouraging them to be successful. She expressed gratitude to Mr.Rai for always supporting the school in scaling great heights.