GAMES
The school provides special coaching in the following games:
1. Athletics 2. Yoga 3. Kho-Kho 4. Badminton 5. Football 6. Table-Tennis 7. Gymnastics 8. Hockey 9. Volleyball 10. Handball 11. Skating 12. Basket ball The regular PT/exercises take care of the physical fitness of the students and helps in the formation of life long fitness habits.
PROPER GROUND FACILITY
Well equipped grounds, authorised coaches are provided to the students for their overall development.
International Sports Achievement : Boxing tournament , International Level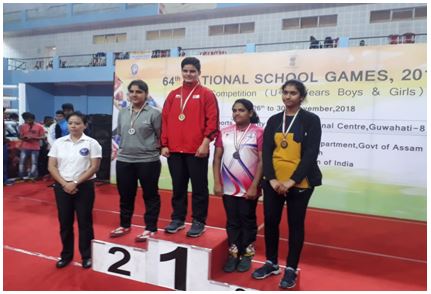 Our sports star Komal has shown outstanding performance in the boxing at International level. She has won Gold medal in (U-17) held at  Serbia. She also won Gold medal in (U-17) held at Ukraine.  It is matter of pride for Police DAV Public School, Patiala with her fabulous achievement. She had earned laurels from her years of hard work for our country as well as for our school.